Our Standout Features
Browse Through Our Features & Let's Power
Up Your Productivity. Mobile & Desktop
Easy App Creation
Drag 'n Drop App Builder
Capture Repeatable Data
G

PS & Map Locations
Barcode & QR Code Scanning
NFC Compatibility
Photo, Video and Audio
Attachment Upload
Formula Builder
"Appenate's Table Field Type has significantly improved our user experience and ease of development on many forms."
Web Forms: Now Anyone, Anywhere
Can Complete Your Forms
Our powerful new add-on, Web Forms, allows you to create and send functional Appenate apps to ad hoc users to complete via their web browser.
For example, a tradesman performing your annual machinery service can now complete your safety survey form via a web browser on his mobile device, without installing the Appenate app. This opens up a ton of new possibilities for you as an Appenate customer – without worrying about once-off license fees.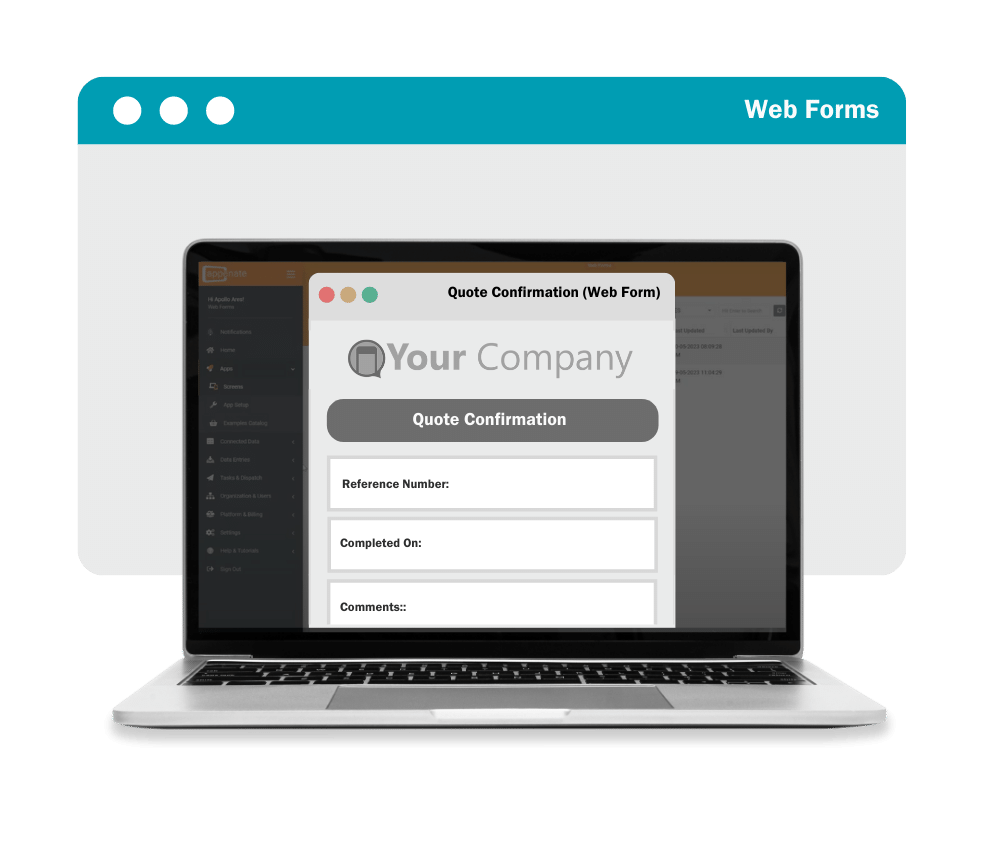 Bulk Barcodes At Top Speed
Create or maintain an effective barcoding system with Appenate and your favourite external barcode reader – and allow for fast scans from a huge database.
Our added support for external barcode scanners can handle databases with as many as 50 000 individual items (we've tested it ourselves). Information held in the database passes seamlessly through the system in split second, allowing you to scan more items, faster.
Contactless Signature Capture
By using any modern smartphone's camera, your client simply scans the QR code and navigates to the webpage. They sign on their device and the digital signature is transferred back to the employee's phone – no touch at all.
Capturing Those Vital Signatures – With No Physical Contact Or Device Exchange.
Scan NFC Without Button Press
Scan NFC tags without a button press on each scan.
location history of
users
Know where your team is & what they're working on.
Comments on Screen
Fields
The ability to leave notes for yourself & team in our various Screen designers.

REST Field
Pull data from any API, directly into your apps. Issue a REST request in JSON or XML to an external web service.
On Device Printing Support
App users can print completed Form entries directly from Android, iOS and Windows devices – even when offline.
Watermarking of Images
Add dynamically generated text as a watermark on images, or chosen via a Media file, during a Form entry.

Multi-Language Support For Forms
With our "toggle language" option, you can change the language and plugin your translations – and your users will see the language they've selected in the app.
That way, you can smash the language barrier to using Appenate for all your employees – worldwide.
OCR Field Type
Adding an Optical Character Reader (OCR) Field to your Form can help increase data accuracy with automatic text extraction.
Using the OCR Field in a Form, you can take a photo of a page containing text. The OCR will automatically extract any text (hand-written or printed) that it can recognize.
QR Code Field Type
Dynamically generate QR codes based on data captured in your Forms.
Upgrade Security With 2FA & TOTP
The double layer of security that 2 Factor Authentication (2FA) offers you is invaluable. It makes unauthorized access to your account more difficult for better protection against spoofing and hacking attempts.
Work From Anywhere With Full Offline Capability
Continue to fill out forms and capture data without a hitch. Next time you have a connection, all your work will be synced to the server and you can continue on as normal.
Just because your signal cuts out doesn't mean the work has to stop. Whether you're in a city blind-spot, out in the mines or on the far-reaching farmlands, Appenate keeps you working.
We Play Well With Others
Our pre-built Data Source and Form Connectors enable data to be pushed to and from other systems.
Use Appenate Sync to automatically synchronize data between the platform and a local
MS SQL Server database on your own system.
SQL Server Connectors
Insert Form entry data as rows into a SQL Server database. Push data from Forms & to a Microsoft SQL Server database.
Snowflake Connector
Push & pull data from a Snowflake database for better data storage, processing & analytics solutions.
Google BigQuery
Plug data from BigQuery tables into data sources and push data to BigQuery via Form & Task Connectors.

Job Dispatch and Task Delegation
Send Free Text Instructions To Read
Send Documents To Open
Send Forms To Complete
Task Templates For Common Tasks
Location and Maps To Track Users
Recurring Tasks
Calendar View
Map View
Push Notifications
When creating effective mobile apps for business, push notifications are often essential. The platform will automatically push a "New Task" notification to the relevant user's device.
Receive real-time push notifications of changes to your data and send push notifications at will using our PUSH API.
Choice of Screen Types
Build Complex User Experiences
Versatile Enquiry Screens For Your Data Sources
Drill Down To See A Selected Data Source Row
Everything You Need For Capturing Data
Visualize Data Rows On A Full-Screen Map
White Label As Your Own
Use Your Custom Branding
Add Your Company Logo
Select From Various Icon Sets
Customize Your Colour Scheme
Select Your Background & Title Bar Colours
Change Your Font Colour And Size
Publish To Stores
REST Field
Pull data from any API, directly into your apps. Issue a REST request in JSON or XML to an external web service.
Access the result's values through our existing JSONVAL() and XMLVAL() formula functions.
Enterprise Grade App Technology
Offline Capability as Standard
Seamless Sync
Access Control
Platform Management Page
Subscription Or Perpetual Licensing
Cloud Or On-Premise Options
Separate Department Environments
Support For Single Sign-On
Mobile Forms in Under 5 Minutes