Brand Our Technology As Your Own
Re-brand our cloud platform with your company's identity. No Mention of Appenate Anywhere.
Full Access. No Credit Card Required
Appenate Is Invisible
Our 360° White Label solution bears no reference to Appenate, leaving your brand front & center.
Avoid The Risk
Leverage our technology without the risk of costly platform infrastructure or specialised skills.
Grow Your Brand
Native applications carry your branding, images and colour palettes with no reference to Appenate.
Easy And Fast
Our drag and drop designer tools mean that you can use non-developer personnel to create the apps.
Appenate Branding Center
A one-of-a-kind center for you to manage your App as a Service apps and Website as a Service customization.
Truly a 'one-stop-shop' to manage all aspects of your white label solution.
App As A Service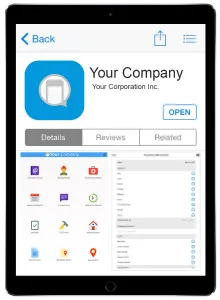 Published To Stores
Your app, available to all your users in Apple App & Google Play stores.
Personalized App Icon
Your customers trust your name, own your app with your unique branding.
Customizable Look & Feel
Tailor your Screens and Forms to reflect your colour schemes and logos.
In Your Own Language
Further customize your app with our multiple language translation support.
Website As A Service
Re-brand our cloud platform with your company's identity, offering all the features of the Appenate platform under your name.
Choose an online domain name and complete the 360° branding experience.
Make It Your Own
Become A White Label Partner
Our White Label Partner Program allows businesses to resell our powerful technology with end-to-end white label capabilities and no mentions of Appenate anywhere. Eligibility to join the program is open to all businesses or consultancies who either resell technology solutions or require a native mobile front-end for their own software.

End-To-End White Label Capabilities
Our 360' White Label solution bears no reference to Appenate, leaving your brand front & centre.

You Own Your Customer Relationships
You manage the entire customer relationship including pricing, support & communications.

No User-Based Targets Or Penalties
We don't have conventional 'reseller' programs that lock you into promoting & marketing somebody else's platform & brand.

A Partner-Friendly Platform
We take an "if you win, then we win" attitude to our partner's success & our software is structured to suit your business.

Discounted, Scaleable Partner Rates
We have no published partner pricing. Our low, fixed-cost fees allow you to mark up recurring fees however you want.

Free Support & Training
We want every partner to get maximum value from Appenate, so we provide FREE 1-on-1 training & quality support.
Testimonials To Back Up Our Claims
"The thing that I liked so much about the Appenate team, rather than all the other software teams I've worked with who never came back to me and they say you can do it yourself….is that you guys are really interactive, showing everything and I just liked that so much!"
– Preethi L.
"Less than 24-hrs later, I had a back-and-forth, technical dialogue, in words I could understand, with an individual who truly seemed interested in solving my problem. And we did! This person followed up a couple times, and truly went out of his/her way to get to a solution.".
– Dan S.
"It is amazing how versatile and insanely user-friendly the Appenate application is if you know how to make use of it. By what's been shown to me above (and tested successfully), this solution is actually way better than what I expected…"
– Nathan A.
Mobile Forms in Under 5 Minutes