Deliver Extra Value & Stand Out From Your Competition
Encourage Adoption Of Processes & Roll Out OHS Documentation With A Click Of A Button – No Coding Required.
Full Access. No Credit Card Required
Become A Superhero To Your Clients
Upgrade Compliance With Simple Electronic Forms For Mobile Devices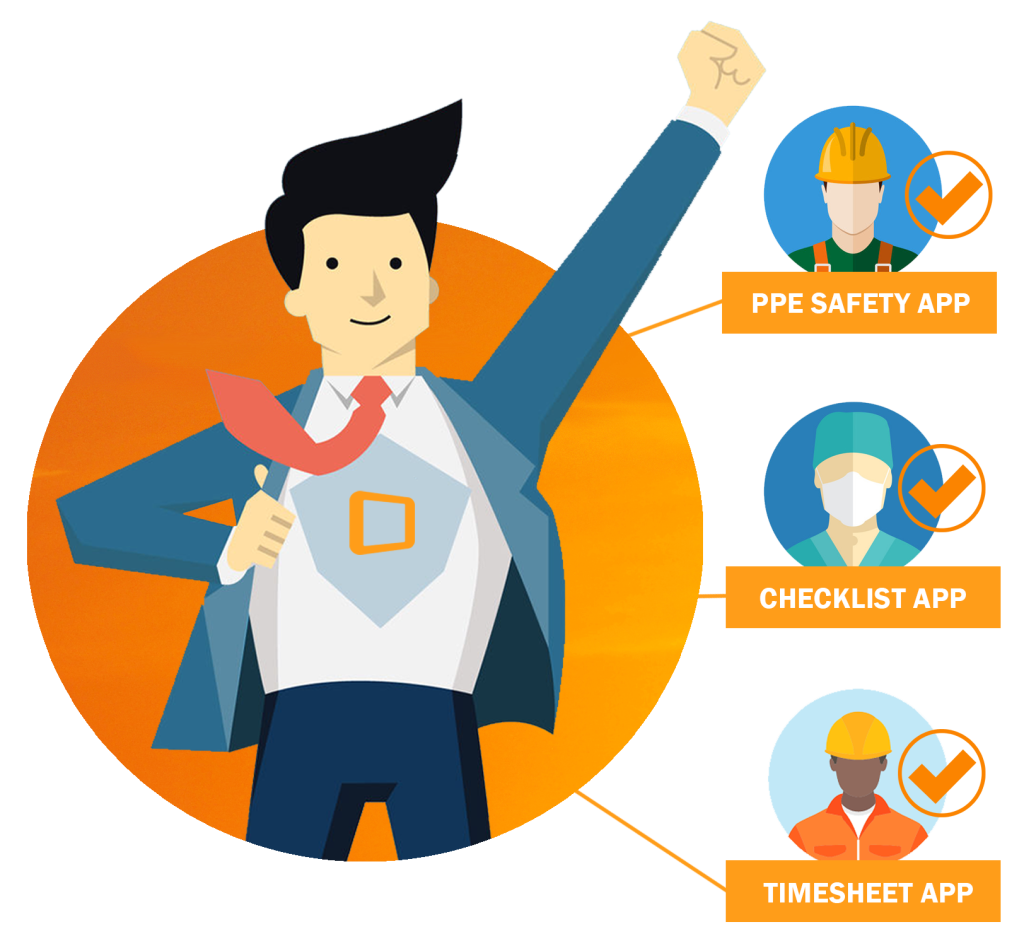 Free Lifetime Master Account
Use Appenate free for life so you can help your clients improve incident reporting rates and safety compliance. Delivering your solution in a digital format will also help clients with their data visibility, speeding up accident investigations and insurance claims.

Roll Out Multiple Forms Across Clients With A Click
Our flexible drag and drop app building software and ready-made templates mean you'll be able to roll out pre-made solutions to new clients with a simple click without any need to learn coding.

We Reward Your Loyalty
As a certified Appenate Consulting Partner, you'll be eligible for an optional 15% revenue share from clients you bring on board. While this could add a little extra to your annual revenue, it's no more than a 'thank-you' from us at Appenate.

How Appenate Works
Stand out from your competition by using a custom mobile app to help deliver your solution to your clients.
At the same time, encourage your clients' workforce to adopt your prescribed processes and roll out your OHS documentation with a click of a button.
In this short video, Asel shows us how easy it is to add and report hazards with our handy SWMS example app.
Deliver Extra Value with mobile apps
How Kathy Used Appenate For ISO45001 Compliance
Here's a video on how a WHS Consultant helped her client achieve ISO45001 compliance digitally.
"I've never seen workers accepting a system's change quite like they do with Appenate." – Kathy, KAS Consulting
Appenate AIHS Consultants Benefit Webinar
Our Ready To Use Apps
Success Stories & More
Case Study: Geeks R Good
Here is how Geeks R Good helped a client get their safety incident reporting rate up by providing a clean and easy to use app with Appenate.
Becoming Your Clients' Superhero
You streamline a tricky process for your client; they can't stop singing your praises. You soak it in, & tackle the next big job. If that's you, you'll find this blog post useful.
The Search For The Perfect Tool
Lisa's been helping clients get their processes in order for 20 years, & paperwork was always a challenge. The trick was to find a balance between information & paperwork.
AIHS Member Benefit
Includes:
A FREE master account in which to create and configure your client's solutions.
Should your clients wish to use Appenate, they will be billed directly by us – so you don't have to worry about billing on top of all your other duties.
There's an optional 15% revenue share available to you when you introduce and implement Appenate with your clients.
You'll receive a certificate and a virtual badge for you to display on LinkedIn/ your website upon completing our technical assessment (we'll guide you through it).
Got questions or want a free account? Fill in this form and one of our team will be in touch.
Mobile Forms in Under 5 Minutes