Appenate's goal is to provide your field and internal teams with an efficient working solution – using any mobile devices. Sometimes though, a conventional smartphone won't cut. In the toughest of conditions, you need the toughest of devices. Which is why we've partnered with Zebra – to provide your business with the edge you need to get ahead.
Easily dispatch inspection or maintenance tasks remotely with a powerful system – so your field teams can perform at peak productivity. All while never losing sight of important data involved in government management.
Appenate makes it possible to capture and store data, dispatch tasks, and share important policies and documents – all within a single platform. Pair us with a powerful, hardy Zebra device for a long-term solution to healthcare management.
Empower your field workers in the utility sector to work and meticulously capture every detail surrounding a job – even when they're offline. Remote task dispatch means less travel and more productivity – all while capturing important data surrounding these tasks.
Flawless Mining Operations
Keep things ticking over at the mine with safety, production and even employee performance tracking. Smart codeless Appenate apps provide all the data you need, and rugged Zebra devices provide your staff with the right tools for the tough mining conditions.
Contactless Signature Capture
Bulk Barcodes At Top Speed
Create or maintain an effective barcoding system with Appenate and your favourite external barcode reader –
and allow for fast scans from a huge database.

Our added support for external barcode scanners can handle databases with as much as 50 000 individual items (we've tested it ourselves). Information held in the database passes seamlessly through the system in splitseconds, allowing you to scan more items, faster.

Implement Appenate to your barcode-dependent operations and crush your limitations.
Optimised Offline Operations
When working in extreme conditions, an internet connection or even a decent signal is often a luxury. That's why Appenate and Zebra make the perfect combination, pairing rugged, offline-capable mobile devices with a hardy, offline-capable platform. So when the signal drops, the work doesn't stop.
Your team already has an edge – they keep working where others would stop. They go places others dare not tread – so sharpen that edge and allow them to work from anywhere – at any time.
Provide your clients with holistic white label solutions with a platform & apps in their company branding.

Our white label partners have built powerful platforms that enable them to deliver a better service to their clients – and stand out from the crowd.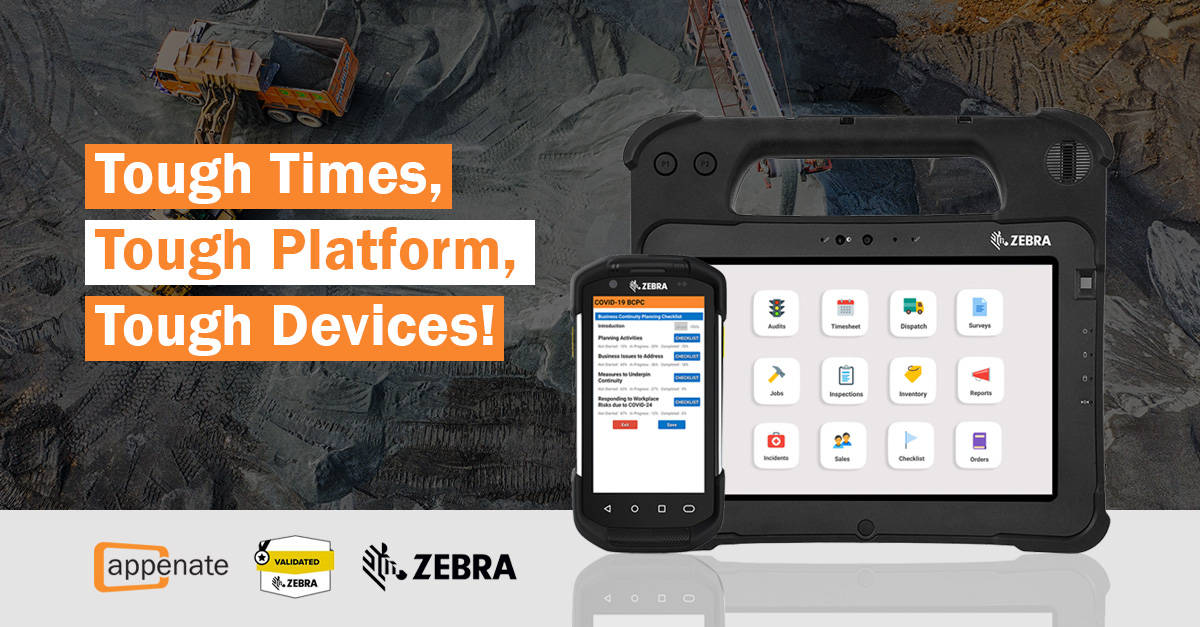 Contact us to learn more about Appenate on Zebra devices.
Affordable Pricing
Drag 'n Drop, No Code Required
Integrate With Enterprise Software
Fully Offline, Native Apps
Paperless & Contactless

Winner of the Zebra ISV Tank Award for presenting solutions for Zebra LATAM's 4 key verticals: HealthCare, Manufacturing, General Merchandise Store and FDCM.
"Appenate allowed our company to go paperless in the field & gave us the ability to move towards other paperless operations." – Junetta, Commercial Service Department – Total Group